Freshwater Baits
Saltwater Baits
Liquid Baits
Overseas Models
Special Ingredients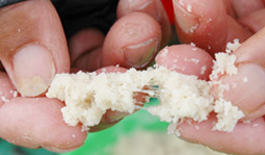 The reason for being able to catch fish is here. Making baits that can catch fish is MARUKYU's duty. The first step to achieve this is to understand the fish. We choose ingredients that excite the fish and think carefully about the combination to match each bait. Their environmental impact is minimal, so you can use our baits without concern. Everything is in perfect order to complete MARUKYU's baits. Exporting Japanese quality to fishing enthusiasts around the world.
Fishing for beginners
Learn how to use MARUKYU baits
An explanation on how to use the make MARUKYU products in here. If you are new to Japanese style fishing,
first have a look here.